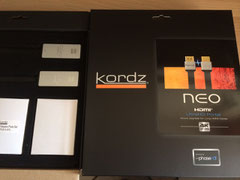 We received our prize this week for winning the #liveinstallbattle entered just before christmas and supported by @ce_pro and @HDConnectivity Thanks to the organiser @customised and everyone who took the trouble to vote.
Our prize, a Kordz neo-s3 HDMI upgrade kit will come in very useful and is a brilliant product for upgrading existing or newly installed HDMI leads to meet the new 4K standards required for Ultra High Definition pictures on TV's coming this year.
We are already looking forward to this years #liveinstallbattle in December.
Information was published in the January 2014 issue of Essential Install magazine page 33
---